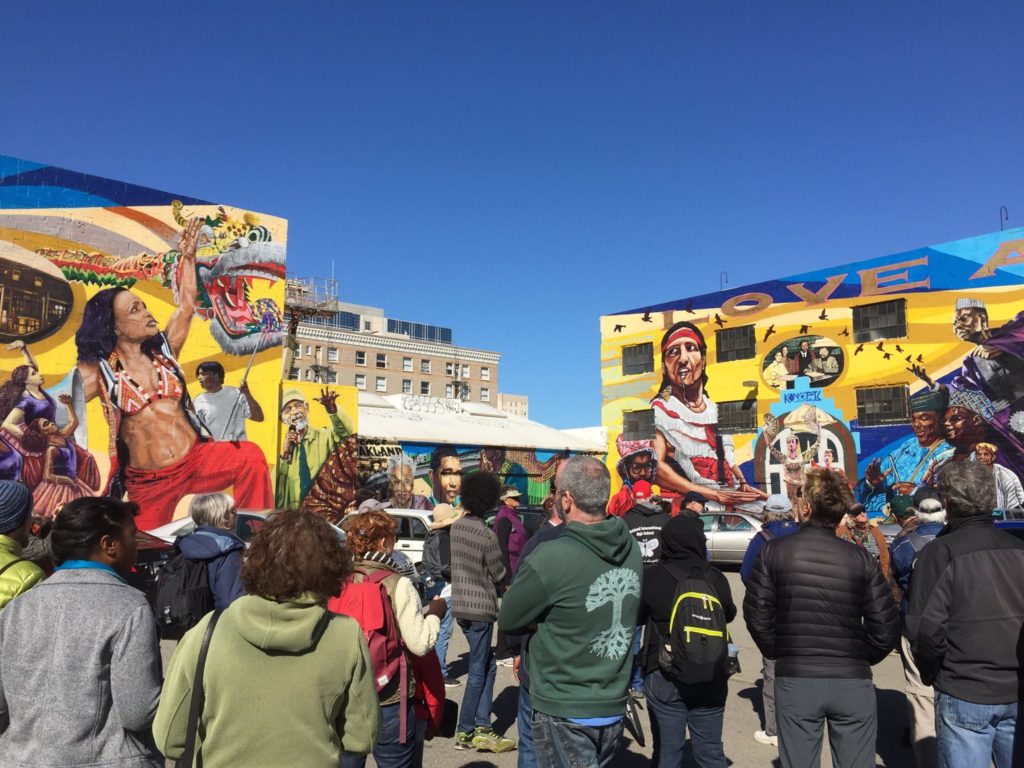 After a chilly start, we had perfect weather for the walk celebrating Black History Month, sponsored by Oakland Urban Paths and the city of Oakland Walking Tours program. The walk was based on the "New Era, New Politics" tour, but with more time, we were able to talk about more people and more subjects. We had 4 speakers (plus comments and questions from the group), so there was a lot of information shared in a short amount of time.
Check out some great photos from the walk by John Prince. Several are displayed below, but there are more in his gallery.
Below are some of people, places and subjects we talked about, organized by where we stopped. Most of them are links to more information on the Oakland Wiki.
African American Museum and Library of Oakland
Ronald Dellums Federal Building
Elihu Harris State Building
Oakland City Hall
City Center
Alice Street Mural
Kaiser Convention Center
Alameda County Courthouse
Quite a list! We didn't have time to include people from sports, music, church history, etc. That's what we could fit in 2.5 hours.
Thanks to the speakers, Annalee Allen, Cathy Leonard, Liam O'Donaghue, and Gene Anderson. And thanks to our speaker carrier, Rollie! Special thanks to OUPer Charlie Lenk for bringing up the rear and keeping us together (and the top photo), and to John Prince for the use of his photos.