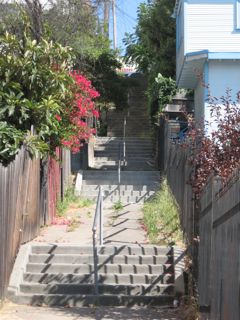 Oakland Urban Paths (OUP) is a group of dedicated walkers, planners, historians and fundraisers with a common mission: to raise awareness of the paths and Oakland's heritage through a variety of activities in partnership with Walk Oakland Bike Oakland (WOBO) and the City of Oakland. We encourage people to explore Oakland on foot!
The group was founded by Paul Rosenbloom and Dan Schulman.
Walk leaders have included:
Paul Rosenbloom
Dan Schulman
Gene Anderson
Chris Kidd
Sue Mark
Dennis Evanosky
Neal Parish
Andrew Alden
Ruth Miller
Robert Perricone
Stan Dodson
Annalee Allen
A special shout-out to Charlie Lenk, who regularly helps with walks, shepherding people, carrying the speaker, taking photos, and whatever else needs to be done.
Are you interested in volunteering? Ideas for a walk? Let us know!