Thanks to all who joined us on this great walk and to Ken Katz for the great pics on Flickr!
Join Oakland Urban Paths for the First Annual Walk & Shop on Saturday, December 11th.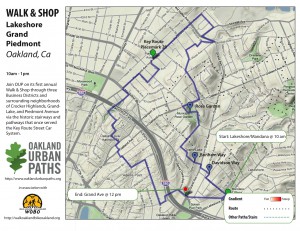 On December 11th from 10-1PM, Oakland Urban Paths will be leading its first annual Walk & Shop through three Business Districts and surrounding neighborhoods of Crocker Highlands, Grand-Lake, and Piedmont Avenue via the historic stairways and pathways that once served the Key Route Street Car. Join us or take the walk yourself with our map if you miss it.
Participants will have an opportunity to shop at the many businesses along Lakeshore Avenue, Grand Avenue, and Piedmont Avenue.
Meet at the park area on Lakeshore (east side of street) between Longridge and Mandana at 9:45 a.m. on December 11th to join in the holiday fun. We plan to leave promptly at 10:00.

We plan to arrive at Piedmont ave, via the Morcom Amphitheater of Roses, by 11:15 for a look around some of the stores. We'll reconvene at 11:45 at the Key System Plaque near the corner of 41st and Piedmont (by the Longs Drugs parking lot) and follow Glen Echo Creek back towards Grand Avenue.
Want to help spread the word? Please share our brochure.