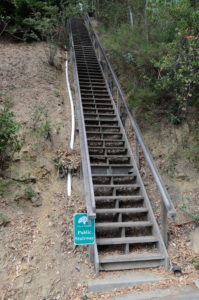 Join Oakland Urban Paths as Neal Parish leads us on some stairs…a lot of stairs…in the Merriewood area of Montclair. The walk will begin in front of Thornhill Elementary School on Thornhill Drive. We'll then climb 637 steps (not all at once) and travel along some of the winding streets in the area.
Because of the lack of sidewalks, steep steps, and other factors, no dogs or strollers on this walk. We'll be limiting the group size a bit smaller than usual because of the logistics.
As always, bring water, a hat and sunscreen as needed.
Please sign up on Eventbrite, and hope to see you on the stairs!