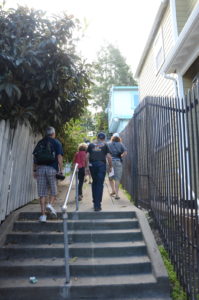 Join Oakland Urban Paths to climb and descend stairs near Highland Hospital that connected the nearby neighborhoods to the Key Route streetcars. We'll circumnavigate EBMUD's Central Reservoir, discover a park created by a landslide and cross I-580 twice via pedestrian bridge. This is a version of a walk we did a couple years ago.
We'll meet at 14th Avenue and Vallecito Place near Highland Hospital, ready to go at 10am, return about 12:30pm. Depending on the group size and speed, this walk may stretch to closer to a 1pm return. This walk will include a number of stairs and some moderate hills.
For this walk, sorry, NO DOGS.
With sunshine, this will be a warm walk with little shade. Please bring water, a hat and sunscreen as needed.
Read about the versions of the walk in 2015 and in 2012.
The walk is free, but please sign up on Eventbrite so we know how many people to expect..