When:
July 12, 2014 @ 10:00 am – 12:45 pm
2014-07-12T10:00:00-07:00
2014-07-12T12:45:00-07:00
Where:
Golden Gate Branch Library
5606 San Pablo Avenue
Oakland, CA 94608
USA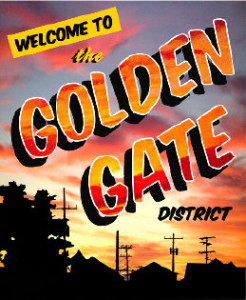 We'll be exploring the Golden Gate District in North Oakland with artists, historians, and neighborhood residents in what should be a great walk. If that weren't enough, Saturday the 12th is also an Oaklavia event, "Love Our Neighborhood Day", sponsored by our parent organization, Walk Oakland Bike Oakland. Some of the streets in the area will be closed down to cars and opened to pedestrians and bikes, and local shops and food vendors will be out, along with a variety of entertainment.
Our walk will begin at the Golden Gate Branch library, where we'll hear about the historic library. The route will take us through "Klinknerville", to the Destiny Arts Center and the North Oakland Farmers Market, and a variety of other stops in Oakland through parts of nearby Emeryville.
The speakers will include artist and historian Sue Mark (of the 10,000 Steps Project downtown), who is working on the "Print Public" project with the local Kala Art Institute; Ruby Bernstein, of the library advisory commision; Toveo Hill of Phat Beets Produce; Laura Ingram of SPAGGIA (San Pablo Avenue Golden Gate Improvement Association); and more!
The walk will be a shorter distance, about 3.3 miles and flat, but with lots of speakers. We will return to the starting point between 12:30 and 1pm. Dogs are welcome. As always, bring water and sunscreen + a hat as needed.
Note that because of the Love Our Neighborhood Day, parking in the area will be limited. This is a great opportunity to bike to the walk, or take public transportation. Plan to stay and try a local restaurant or one of the Oaklavia food trucks after.
A map of our route is here: map (PDF)