Sep
10
Sat
Hike with OUP, WOBO and the Bay Area Ridge Trail Council

@ Skyline Gate, Redwood Regional Park
Sep 10 @ 8:00 am – 11:00 am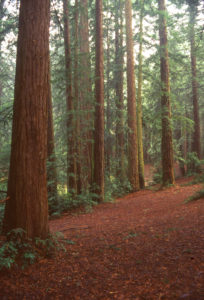 And now, for something completely different (for Oakland Urban Paths, at least): explore one of the East Bay Regional Parks which is just minutes from downtown Oakland. There will be limited narration; this is mostly a hike.
Discover Redwood Regional Park with Walk Oakland Bike Oakland and the Bay Area Ridge Trail Council in Oakland. Hike 7.5 miles on the Stream Trail through stands of Coast Redwoods, and on the West Ridge Trail, enjoy stunning views of the San Francisco Bay Area.
The West Ridge Trail is part of the Bay Area Ridge Trail. When complete, the Bay Area Ridge Trail is a 550-mile continuous loop on the ridgeline above the San Francisco Bay. 367 miles are currently open for hikers, cyclists and equestrians. The Bay Area Ridge Trail Council hopes to have 400 miles open by 2018.
NOTE: The hike will be limited to 45 participants—signup here. The 7.5 mile loop will include moderate to strenuous hills, and you'll need to bring water and snacks. Also note the 8AM start time instead of our usual 10AM start.
Parking Info:
Due to limited parking at Skyline Gate Staging Area, please carpool if possible. If the parking lot is full, limited parking is available along Skyline Boulevard.
Food – Bring a light snack such as an energy bar, trail mix or fruit
Water – Bring at least 2 liters of water (there are drinking fountains at the start)
Restrooms – There are restrooms located along the trail
Sun protection – Some of the trails are shaded, but others are more exposed
You can find a map of Redwood RP here. The approximate route is Skyline Gate Staging Area to Stream Trail to West Ridge Trail back to Skyline Gate Staging Area.
From Berkeley/Oakland North:
Take Hwy 13 south and exit at Park Blvd. Turn left at the end of the off ramp onto Mountain Blvd.
From Oakland East/San Leandro:
Take Hwy 13 North and exit at Park Blvd. Turn left at the end of the off ramp onto Mountain Blvd.
From Lake Merritt:
Follow Park Blvd. east to where it ends after crossing Hwy 13. Turn left at the light onto Mountain Blvd.
From Mountain Blvd., turn right onto Snake Rd, two or three stoplights later. The road will split into two about 1/4 mile later, stay to the right which is Shepherd Canyon Rd. Follow the yellow line on Shepherd Canyon Rd. to the top where it intersects with Skyline Blvd. at a stop sign. Turn hard right at the stop sign (that is Skyline Blvd). The Skyline Gate Staging Area will be on your left about 1/2 mile later.